The Mission of St. Frances Cabrini Parish
Our mission as a Catholic Christian community is to help all people achieve salvation by spreading the message of God's love. We strive to strengthen this effort by enriching ourselves through the Scriptures and the Sacraments. We share our faith by teaching, personal witness and works of charity.
About Our Parish
The St. Frances Cabrini Church and education buildings were originally built as a "Chapel of Ease" and extra classrooms for Saints Peter and Paul Parish in 1959. A vibrant community sprung up here, and Father James T. Weber was appointed the first pastor of the parish in 1961. He lived in a room in the Education Building until the Rectory/Parish Office Building was erected in 1966.
Parish volunteers built the recreational Ramada in 1974. Following a successful fund drive, the Parish Hall went up in 1982. In 1987 Monsignor Weber (as he was then) retired, and Monsignor Robert Fuller (soon known to us as "Father Bob") became pastor.
The former director of Renew International, Father Bob inspired many parish members to form small faith-sharing groups that have greatly enriched their lives. His down-to-earth personality and compassionate spiritual counseling make people feel welcome and valued. His homilies are justly famous. Three volumes of Homilies from the Heart written by Father Bob have been published. In 2018, Father Bob retired as parish pastor.
In June of 2018, Reverend Jens-Peter (Jay) Jensen, Jr., was named as the new pastor of St. Frances Cabrini Catholic Church. Father Jay was ordained to the priesthood in 2001 in the Diocese of Colorado Springs. He served there until he was reassigned to the Diocese of Tucson in 2008. Father Jay is committed to continuing our parish's legacy of sharing the faith in a humble and relate-able manner as well as providing a welcoming place for all visitors.
About our Community
We currently have about 600 households registered with us. We offer a family-centered Religious Education program and an active Youth Group for students through 12th grade. These classes prepare children and youth for First Reconciliation, First Eucharist and Confirmation. We ensure a safe environment for all children.
Parishioners will find other ways to grow and live our Catholic Christian faith, too. Our R.C.I.A. group prepares Christians baptized in other churches to become Catholics, adults and families who have never been baptized to receive Baptism, and baptized Catholic adults to receive further Sacraments. We have additional opportunities for bible study, socializing, and other events on a regular basis. There are many ways to share with other people from our parish and community.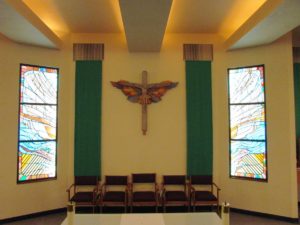 St. Frances Cabrini Church was remodeled to its present configuration in 1992. The beautiful crucifix above the altar and contemporary stained-glass windows, designed by artist Maureen McGuire, were then installed. Their soft, southwestern colors and hopeful imagery help create the welcoming atmosphere that expresses the spirit of our parish.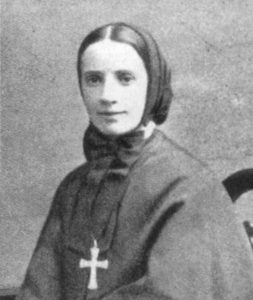 Our patron saint was always concerned with serving others with love, and we honor her and other Catholic heroes by imitating that love. You can learn about our other ministries to serve our Church, each other and our community. We are a parish that is all about the love of Christ lived out in acts of care for our neighbors.
Register at our Parish
We welcome you to join our family in Christ. If you would like to register with our parish and share in our faith community, please consider registering with us.