ST. FRANCES XAVIER CABRINI
Feast Day: November 13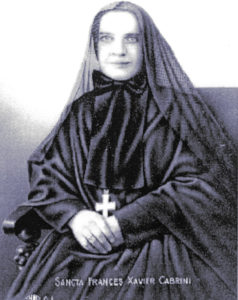 St. Frances Cabrini was an ordinary, fragile woman who was transformed by a powerful, personal experience of God's love. As a result, she lived her life on fire with that love. Her life symbolized the Sacred Heart of Jesus, to which she had a deep devotion.
The youngest of thirteen children, Cabrini was born in a small village in Italy. She grew up enthralled by the stories of missionaries. In 1880, with seven young women, Frances founded the Institute of the Missionary Sisters of the Sacred Heart of Jesus.
She was as resourceful as she was prayerful. At the request of Pope Leo the XIII, Mother Cabrini went to New York to help Italian immigrants instead of going to China as she had expected. During her lifetime, Mother Cabrini founded sixty-seven missions including schools, hospitals, orphanages and child-care centers throughout the United States and the world.
Mother Cabrini died on December 22, 1917, at Columbus Hospital in Chicago. It did not take the Church long to recognize her for her holiness. She was beatified in 1938 and canonized a Saint shortly after, on July 7, 1946.
Register at our Parish
We welcome you to join our family in Christ. If you would like to register with our parish and share in our faith community, please consider registering with us.