The death of a loved one is an especially difficult time. Care and Share is a parish ministry that for many years has done receptions after funerals for members whose relatives call the parish office to request this help. The receptions are in the Reception Hall or Room 5 of the Education Building, if the space is available on the date requested.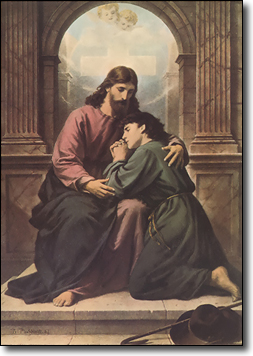 Receptions for Grieving Families
Care & Share volunteers purchase the refreshments and paper goods with parish funds and donate their services to set the tables, serve the food and beverages, and clean up. They are not paid for their labors, so it is a ministry of compassion to those who may be unable to organize receptions at their homes or other venues in the midst of their bereavement. Families who receive these services make such donations to the parish as they can afford in order to support the continuation of the ministry, although we do not charge a fee for it.
Care and Share Ministry Seeks Volunteers
The Care and Share Ministry coordinates receptions following the funerals of beloved members of our parish family. Volunteers in this ministry to the bereaved may shop for food, set tables and chairs, set out and/or serve food and beverages, and/or help clean up at the reception's end. These are simple acts, but they provide a loving service to family members trying to cope with so much at once.
Join Care and Share...
If you wish to become a member of this ministry, please call the parish office at 520-326-7670 or contact us online here and mention you wish to speak with the Care and Share Ministry leader about volunteering.