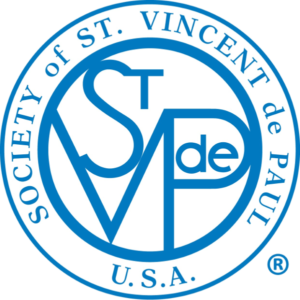 Inspired by Gospel values, the Society of St. Vincent de Paul, a Catholic lay organization, leads women and men to join together to grow spiritually by offering person-to-person service to those who are needy and suffering regardless of race, origin, religion or gender.
WE CAN HELP.  The Society of St. Vincent de Paul provides compassion and support to individuals in need within our parish boundaries. The types of assistance may include spiritual direction, food, rent, utilities, clothing, furniture and referrals to other social service agencies.
All of our assistance is provided through home visits, and not through the office.  To request assistance, please call 520-881-3075 between the hours of 9:00 am and 11:00 am Monday through Friday.  One of our volunteers will take your call, if available, or return your call as soon as possible.
How You Can Help
Volunteer: The Society is open to all who wish to live their faith by loving and serving their neighbor as a St. Vincent de Paul volunteer.  Although Catholic in character, there are no exclusions based on religion, gender, age, race, or ethnic background.  Diversity within a conference is both welcomed and healthy.  Person-to-person contact with the needy in their homes is the most basic and necessary Vincentian activity. Conference meetings are held bi-weekly on Monday at 11:30 am for one hour and all members are encouraged to attend. Note: All volunteers are subject to a criminal history check through the Diocese of Tucson prior to participating in home visits.
Support: Our Conference relies on monetary donations placed in the poor boxes near the doors in church.  Check and cash contributions may also be placed in the collection baskets at Mass or dropped off at the office.  Please make checks payable to St. Vincent de Paul.
Donate: Blue barrels are put out on the first and third Sundays of each month for your donations of canned goods and other non-perishable items. We can always use canned tuna, stews, soups, or fruit; jars of peanut butter or jelly; boxes of cereal; pasta; etc.  Personal items like shampoo, toothbrushes, toothpaste and toilet paper are also very much appreciated. Finally, brown paper grocery bags are something we constantly use for food deliveries to homes.
Shop:  The Tucson Diocesan Council operates two thrift stores to help provide furniture and clothing to those in most need of assistance. Donations to the thrift stores are also appreciated. To schedule a donation pick-up, call 520-622-2821. You can also volunteer at the Thrift Stores. If interested in volunteering, please call 520-628-7837. Thrift Stores are located at:
820 South Sixth Avenue at 18th Street
5426 East Pima at Craycroft
If you shop at Fry's and have their shoppers card, you can also designate our Conference to receive a percentage of your purchases as a cash donation! To support us at no extra cost to you, please go to the Fry's Community Rewards page. Then search for "St. Vincent De Paul Society Cabrini Conference" or by our Fry's Community Rewards organization number of 80310. You may need to create an online Fry's account if you do not already have one.
God bless you for all your prayers and support. Someday, we will be privileged to hear these words from Jesus Himself: "I was hungry and you fed me… homeless and you took me in."
Register at our Parish
We welcome you to join our family in Christ. If you would like to register with our parish and share in our faith community, please consider registering with us.