Feast of Saint Joseph the Worker
Dear Ones in Christ,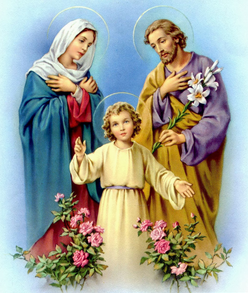 God has surrounded us with such incredible helpers to our faith, and yet how often do we fail to recognize that, along with Christ Himself, they are an ever-present help to us as we face each of life's experiences? I love to think of today's feast – the Feast of Saint Joseph the Worker. We do not have a single recorded word from the lips of this incredible man recorded in scripture, and yet his examples of faith and strength can be such sources of help to us in times of need. I have been reflecting again that the Church looks upon St. Joseph as its Universal Patron. Doesn't that make incredible sense? To think that the one to whom God entrusted the care and raising of His Only Begotten Son should be regarded as the special one to care for the entire Church! This gives me great comfort in these days that we still have those who join with our Lord to continue their work of loving care for all of us. St. Joseph, Patron of the Universal Church, pray for us!
We can be so thankful as well for those among us who have been and who are faithful workers in the Church. It is with such mixed feelings that I share with you that two of our faithful staff members either have or shortly will be leaving the employ of St. Frances Cabrini Parish. Michelle Perrier, our director of music and liturgy, has taken a new position in a parish in Rochester, MN, and will be involved with the music ministry at the Church of the Resurrection Catholic Church. Being in Rochester brings Michelle closer to a more vibrant musical scene as well. Her passion has always been opera and performance, and moving to Rochester will bring her closer to more opportunities in that field. Please join me in wishing her every happiness and success.
Mary Lou Bauer. Oh, my, can we describe her in any less terms than that she is both a force of nature and a spiritual force for good? How many, many of our young people have had their lives so positively impacted because of Mary Lou's faith, spiritual insights, motherly care and always her great good humor! I know Mary Lou and hubby, John, are looking forward to their retired lives together. They are not moving away. In her retirement letter to me, Mary Lou expressed a desire to continue a number of activities she's been involved with here at the parish, so please don't think we're not going to continue to enjoy her enthusiastic presence among us. To Mary Lou, in gratitude for all the years of deeply dedicated service to our parish and our youth I offer my (our) most profound and sincere thanks. May I suggest to all parishioners that you consider expressing your gratitude to these two women by sending them a thank you card or any other expression of your gratitude? Cards can be sent here to the parish office, and we will make sure they are forwarded to them.
A message from our Bishop this morning states that, even though you may have heard on the news that there is going to be a lessening in the restrictions to gather for Mass again, such is still not the case, and the protocols for parish restrictions must continue in place for the foreseeable future. We are all keen to gather together again, of course, but we've come this far with positive results. Please, continue to be patient as it is in this patience that we'll continue to see a lessening of the pandemic and the return to our times of fellowship together. I encourage you to log in to the Diocesan website not only to participate in spiritual communion via our Bishop's daily Mass, but also for the most up-to-date information which he faithfully shares with all of us.
Finally, today both our Nation and our Diocese have been reconsecrated to Mary, Mother of the Church. This is a national effort, and our Bishop is most pleased to participate in the reconsecration. As I wrote at the beginning of this email, God has surrounded us with such incredible helpers to our faith, and Mary is such an exemplar of that special kind of help. So, today and every day let us entrust ourselves into the strong and loving hands of the Holy Family: Jesus, our Lord and Redeemer, Mary, Mother of the Church, and St. Joseph, the Church's Universal Patron, as they make perpetual intercession for each of us.
In deepest gratitude for your faithfulness and prayers,
Fr. Jay