The Sculpture Speaks: A Refugee's Story of Survival
Monday, November 19, 2017


Parish Hall
6:30pm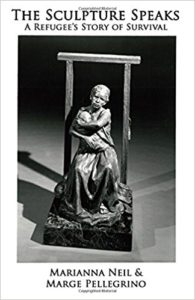 Authors Marianna Neil and Marge Pellegrino will talk about how the story behind the powerful symbol of sanctuary at Southside Presbyterian Church changed their lives and led them to write the story of "Juana". The authors will share how the book unfolded as well as touch on the refugee work with the Owl & Panther project that this story inspired.
Artist Aida Algosaibi-Stoklos will share the moving monoprints found in the book.
ABOUT THE AUTHORS
Marianna Neil served as a Diaconal Worker for the Presbyterian Church at Southside Presbyterian Church in Tucson, from 1987 through 1997, in a program that assisted refugees settling in the area who were fleeing from civil war and torture in Central America. Marianna was instrumental, along with her partner, Amy Shubitz in establishing the Owl & Panther Project.
Marge Pellegrino, oversees and facilitates programming for the Owl & Panther, a project of The Hopi Foundation, which has served refugees survivors of torture, trauma, and traumatic dislocation since 1995. Marge is an award-winning author and teaching artist who also facilitates workshops in school, library, and organizational settings.
---
Theology Uncorked is a free program for theological reflection, good conversation, delicious wines and fresh popcorn! This program is offered usually on the first Monday of each month with presentations, movies, etc., which allow us to further examine our lives as it relates to Christ's teachings. You are welcome to bring snacks or a bottle of wine to share as we delve into our theology! All are welcome to join us!