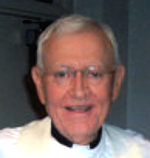 March 14, 2018
Dear Parishioner,
I have spent the last 31 years getting to know you, work with you and serve you in any way I could. We have travelled a long journey together. It has been a joyful journey for me, and I hope for you as well. I have been quietly reflecting over the last two months on my 62 years of priestly ministry (31 years here at St. Frances Cabrini) and the fact that I will be 88 years old in September.
The decision to which I have come is that it is time for me to step down as Pastor of St. Frances Cabrini Church and spend a little time enjoying my remaining retirement years. I have notified Bishop Weisenburger that I am prepared to retire effective June 30, 2018.
In a perfect world, I would have time to sit down with each of you individually to share this news with you. Unfortunately, this is something for which time does not allow.
My heart is filled with gratitude to God for the life he has given me and for my 62 years of service to the Catholic Church. I am grateful to all of you who have helped and supported me, and given your love to me over the years.
There is one thing for which you can be certain. Please know that when I retire, I do not leave you. You will be in my thoughts and prayers, in my mind and heart for the rest of my life.
It has been my deep honor and privilege to know you and serve as your pastor. See you in retirement!
Your faithful servant,
Fr Bob Fuller