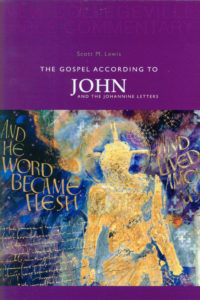 This year we will be studying the Gospel according to John and the three Johannine Letters. We meet every other Tuesday evening from 6:30 p.m. - 8:00p.m. Our text will be the Bible (bring yours with you) and the New Collegeville Commentary: The Gospel According to John and the Johannine Letters by Scott Lewis (pictured here).
Classes begin on October 10, 2017, continuing for 15 sessions. We will meet in the Education Building in Room 1. We look forward to learning and sharing together!
"The Gospel According to John and The Johannine Letters" by Scott Lewis is available from Liturgical press at www.litpress.org or 1-800-858-5450. PLEASE CONTACT CATHY KENT IF YOU WOULD LIKE HER TO ORDER YOU A COPY OR MORE INFORMATION.
DATE

10/10/17

10/24
11/07
11/21
12/05
12/19
01/02/18
01/16
01/30
02/13
02/27
03/13
03/27
04/03
04/17
05/01
CLASS

1st

2nd
3rd
4th
5th
6th
7th
8th
9th
10th
11th
12th
Holy Week
13th
14th
15th
GOSPEL READINGS
Introduction and overview
Chapter 1
Ch. 2 & 3
Ch. 4 & 5
Ch. 6
Ch. 7 & 8
Ch. 9 & 10
Ch. 11 & 12
Ch. 13 & 14:14
Ch. 14:15-17:26
Ch. 18 – 19:37
Ch. 19:38 – 21:25
NO CLASS
1 John 1:1-3:10
1 John 3:11 – 5:21
2 John, 3 John
PAGES IN COMMENTARY
Read Introduction notes in your Bible
pages 5-15
pages 15 -24
pages 24-34
pages 34-42
pages 42-51
pages 51 – 57
pages 57 -67
pages 67 – 74
pages 74 – 84
pages 85 – 97
pages 97 - 107
-
pages 108- 117
pages 117 – 124
pages 125 - 130