DACA – A Conversation
Monday, November 6, 2017


Parish Hall
6:30pm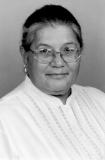 Featured speaker, Raquel Rubio-Goldsmith, is a native of Douglas, Arizona with graduate degrees in jurisprudence and philosophy from the National Autonomous University of Mexico. She is a longtime proponent of human rights, especially focused on immigrant rights.
Since 2004, as one of the founders of the Binational Migration Institute at the University of Arizona, she has dedicated her research to the study of the impact that immigration policy enforcement has on our communities. She will be accompanied by two DACA recipients who will present an analysis of their immigration status.
Theology Uncorked is a free program for theological reflection, good conversation, delicious wines and fresh popcorn! This program is offered usually on the first Monday of each month with presentations, movies, etc., which allow us to further examine our lives as it relates to Christ's teachings. You are welcome to bring snacks or a bottle of wine to share as we delve into our theology! All are welcome to join us!